Porodo 3 in 1 Aluminum USB-C Hub 4K HDMI PD 87W-GRAY
Call for Price (-3%)
Product                                3 in 1 USB-C HUB
Brand                                   Porodo
Model                                   PD-4K31C-GY
HDMI                                    4K @ 60Hz
USB 2.0                                 Data Transfer 480mbps
USB Output                           4.5W
USB-C Input                          Up to 87W
Number Of Ports                   3(USB Type C, HDMI, USB 2.0)
USB-C Connector                  USB 3.0/3.1 Compatibe
Fast Charging                        Yes
Color                                   Gray
Weight                                 50Grams
Out of stock
Porodo 3 in 1 Aluminum USB-C Hub 4K HDMI PD 87W-GRAY
Porodo 3 in 1 Aluminum USB-C Hub 4K HDMI PD 87W-GRAY
Description
USB-C HUB
HUB for USB-C to HDMI, easy to use, Compatible for Nintendo Switch/MacBook/Chromebook Pixel/Dell XPS13/Samsung Galaxy easy, the multiport adapter will help you to charge your phone or transfer data during your connection and thanks to PD Fast Charge in USB-C to HDMI HUB your charging will be fast charging enjoy aluminum shell and be sure about the lifespan. This USB-C Hub has been designed with an Aluminum shell which makes it highly secure in damages like dropping down by accident, in that case, you can be sure that nothing going to happen to your product due to its resistance Aluminum shell.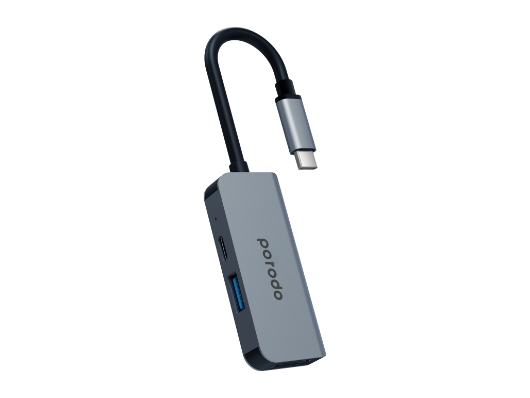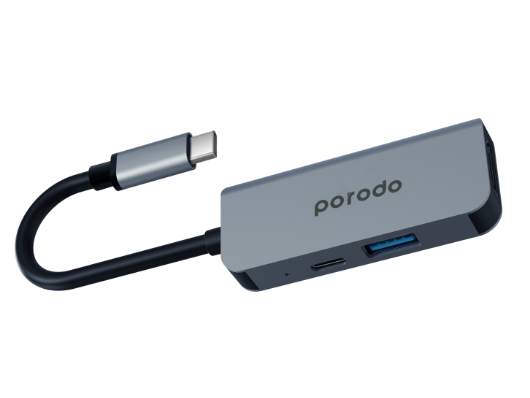 USB-C HUB
The HDMI port in this USB-C Hub has a 4k resolution at 60Hz, which you can display your media like videos or images in better resolution. This hub supports almost most of the type-C devices. This USB-C hub is suitable for the Nintendo switch/MacBook/Chromebook Pixel/Dell XPS13/Samsung Galaxy and other devices which support USB-C connector and needs to have more ports. Its design is the way to make it more durable. If you want to transfer data, it is better to use this device, because it is going to offer you a high-speed data transfer process compared to other hubs.

where to buy Accessories in Lekki ? Not to worry We are one of the best Authorised Accessories store in Lekki, step in for the best experience in our Gadget stores in Lagos.