Porodo Lifestyle Multi-Compartment Storage Bag 8.2″ with 2A USB Charging Outlet – Gray PD-BGLSSB82-GY
Call for Price (-40%)
IPX3 Water Resistant
8.2" Travel Friendly
High Quality
Porodo Lifestyle Multi-Compartment Storage Bag 8.2″ Overview
Porodo Lifestyle Multi-Compartment Storage Bag
IPX3 Water Resistant
8.2″ Travel Friendly
High Quality

Multi-Compartment Storage Bag
Porodo Multi-Compartment Storage Bag is travel friendly and you can put your stuff inside it and carry it around with yourself comfortably, due to its compact design. Also, it has IPX3 Water Resistant which can ensure you that you have a secure bag, and you don't need to be worried about your stuff in case you accidentally drop it in the water or you can carry it with yourself under heavy rain. Because of its high-quality material, you will have a super durable bag. In this bag, you can find two USB-A charging Outputs that with the help of advantage, you can access two ports for charging your devices.

Product : Multi-Compartment Storage Bag
Brand : Porodo
Model : PD-BGLSSB82-BK, PD-BGLSSB82-BU, PD-BGLSSB82-GY
Size : 8.2″
USB Type : USB-A
Number Of Ports : 1
Current : 2A
Water Resistant Level : IPX3
Dimensions: 21 x 14 x 4cm
Color: Black, Blue, Gray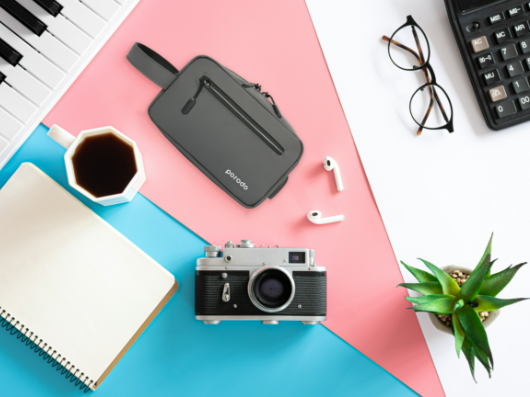 Multi-Compartment Storage Bag
Porodo Multi-Compartment Bag comes with USB charger output on the side of the bag. You can connect your power bank to the cable that has been specified in the bag and after that, you can connect your cable to the USB- Connector and then start to charge your smartphone. The Porodo multi-component Bag is all you need to take to work or school. It has side zipper and a top zipper. This option gives you more options to put your belongings and manage them easily. The compact design can keep all your belongings and be carried around with no hesitation. This travel-friendly bag is designed to charge your devices wherever you go. This handy product is the best choice for daily use. It is made of high-quality material and is water-resistant.