Roll over image to zoom in
Click to open expanded view
Powerology 3-Outlet Wall Socket 13A with 2USB-A QC3.0 + PD 20W – Black PWCUQC003
Call for Price (-18%)
Brand                                          Powerology
Model                                         PWCUQC003
Outlet Wall Socket                       3
USB-A Ports                                2
USB-C Ports                                1
Travel Friendly                             Yes
Input                                          100V-250V, 50/60Hz 0.6A
Power Rating                               3250W/ 13A
USB-C Output                             20W 5V 3A, 9V2-22A, 12V/1.67A
USB-A Output                             20W 5V 3A, 9V2-22A, 12V/1.67A
USB Output Sharing                     5V/3A Max
Wattage                                      20W
In stock
Powerology 3-Outlet Wall Socket 13A with 2USB-A QC3.0 + PD 20W
Description
Powerology 3-Outlet Wall Socket With Fast Charging USB Built-in mulit-protections, this Type C PD Charger can effectively protect your device away from over-voltage, over-heating, short-circuiting – Black
Highlights:
Built-in mulit-protections, this Type C PD Charger can effectively protect your device away from over-voltage, over-heating, short-circuiting etc. Compact and Lightweight design makes this QC 3.0 Charger a perfect travel companion.
Charge 0%-60% in 35 Minutes for Phone and Tablets
Dual Port QC3.0 Outputs and 20W PD
Multi-Port Wall Socket
Super Compact
Smart Design
Specifications
Input: 100V-250V, 50/60Hz 0,6A
Power Rating: 3250W/ 13A
USB-C Output: 20W 5V/3A, 9V/2.22A, 12V/1.67A
USB-A Output: 20W 5V/3A, 9V/2,22A, 12V/1,67A
USB Output sharing: 5V/3A Max

Powerology wall socket comes with 3-outlet, and 3 USB ports, one of them is USB-C and the other two are USB-A. All USB ports are fast charging. This compact and convenient charger station is perfect for home, offices, and school.
Powerology Charging Station
The Powerology Wall Socket extended the wall socket to 3 AC outlets and 3 USB ports which makes it suitable for any kind of device in another hand you can charge all your devices with this wall socket because that's why it has been made. You can charge 6 devices together at the same time simultaneously. The maximum output for the USB port is 15W (5V3A) and the AC output is 3250W (250V/13A), it is ideal for charging in most the office and any kind of household appliances. It is one of the backpack priorities before planning for going on a trip because of its design which is really compact and convenient for traveling, don't worry about charging your Smartphones, headphones, speakers, external batteries, tablets, etc., while you are far from home.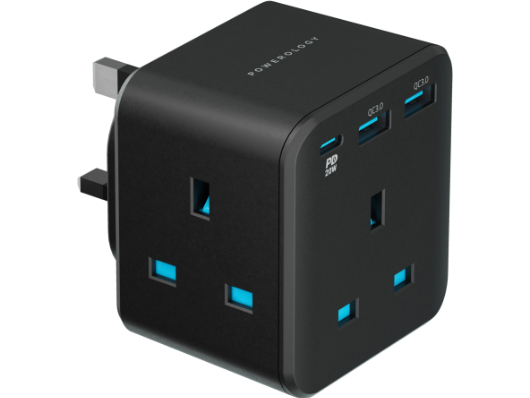 Product:Outlet Wall Socket
Brand:Powerology
Model:PWCUQC003
Outlet Wall Socket:3
USB-A Ports:2
USB-C Ports:1
Travel Friendly:Yes
Input:100V-250V, 50/60Hz 0.6A
Power Rating:3250W/ 13A
USB-C Output:20W 5V 3A, 9V2-22A, 12V/1.67A
USB-A Output:20W 5V 3A, 9V2-22A, 12V/1.67A
USB Output Sharing:5V/3A Max
Wattage:20W
Dimensions:7 x 9 x 7 cm
Weight:159 Grams
Color:Black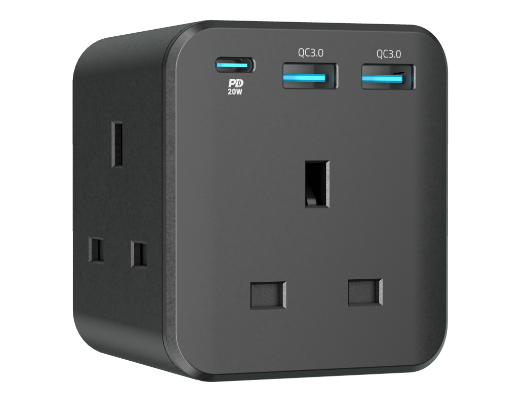 Powerology Charging Station. The material which has been used in the Poworology wall socket some specific materials have been used to make this product withstand through the facing with high temperatures and overheating. Be sure that this wall socket will protect the safety of your device in all the details. Remember that this device is perfect fit and also travel friendly, plug the adaptor between the wall outlet and your device, and don't worry because this product is more than secure and not going to fall easily.

where to buy Accessories in Lekki? Not to worry We are one of the best Authorised Accessories store in Lekki, step in for the best experience in our Gadget stores in Lekki.